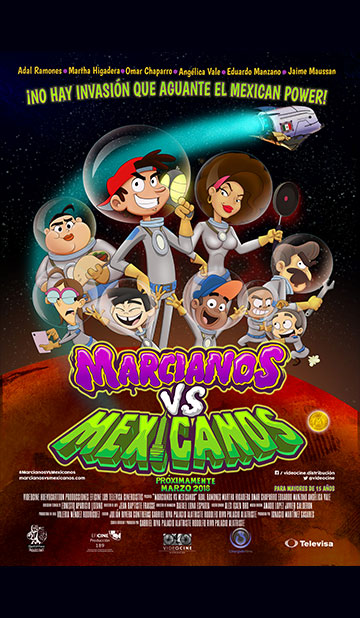 Synopsis
MARCIANOS VS MEXICANOS
En esta comedia animada para adultos, un joven mexicano de clase media baja conocido como "Chacas Reyes," al igual que toda su familia conformada por curiosos personajes, así como algunos de sus vecinos, se ven involucrados en un conflicto interplanetario cuando son elegidos por la NASA para ir a Marte y combatir una invasión marciana que amenaza con destruir nuestro planeta. Como buenos mexicanos, este grupo de héroes incautos vencerá a los ingenuos extraterrestres usando todo tipo de trucos para confundirlos.
Martians VS Mexicans
In this animated comedy for adults, a young Mexican from the lower middle class known as "Chacas Reyes," his entire family made up of curious characters, as well as some of their neighbors, become involved in an interplanetary conflict when they are chosen by NASA to go to Mars and fight a Martian invasion that threatens to destroy our planet. Like all good Mexicans, this group of unsuspecting heroes will defeat the naive extraterrestrials using all sorts of tricks to outsmart them.