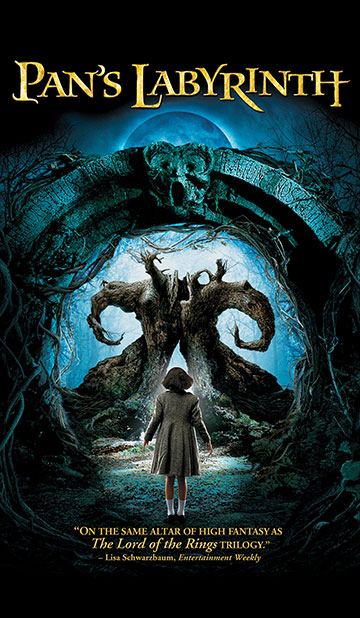 Synopsis
Pan's Labyrinth
Considered a masterpiece by critics and audiences alike, Guillermo del Toro's mesmerizing Pan's Labyrinth cemented the master of monsters as one of the most ingenious and visionary directors in modern cinema. This dark fairytale set a few years after the Spanish Civil War blends magical worlds and terrifying creatures with the profoundly affecting story of a young girl, Ofelia (Ivana Baquero), who finds refuge in fantasy from the violence in her surroundings. Pan's Labyrinth won three Academy Awards for Best Cinematography, Best Art Direction, and Best Makeup; and was nominated for Best Foreign Language Film Best Original Screenplay, and Best Original Score. Easily one of the most celebrated Mexican productions of all time, the film showcases the director' many talents and affinity for genre cinema.
El Laberinto del Fauno
Considerada una obra maestra tanto por la crítica como el público, la deslumbrante cinta El Laberinto del Fauno de Guillermo del Toro, consolidó al maestro de los monstruos como uno de los directores más ingeniosos y visionarios del cine moderno. Este oscuro cuento de hadas ambientado algunos años después de la guerra civil española, combina mundos mágicos y criaturas aterradoras en una hisotria profundamente conmovedora sobre una niña, Ofelia (Iavana Baquero), quien encuentra refugió de la violencia en su entorno a través de la fantasia. El Lbaerinto del Fauno ganó tres Premios Óscar por Bejor Fotografía, Mejor Diseño de Producción, y Mejor Maquillje; y estuvo nominada a tres más como Mejor Película en Lengua Extranjera, Mejor Guión Original, y Mejor Banda Sonora. Sin lugar a dudas es una de las producciones mexicanas más galardonasa de todoso los tiempos, la cual muestra los numerosos talentos del director y su afinidad por el cine de género.