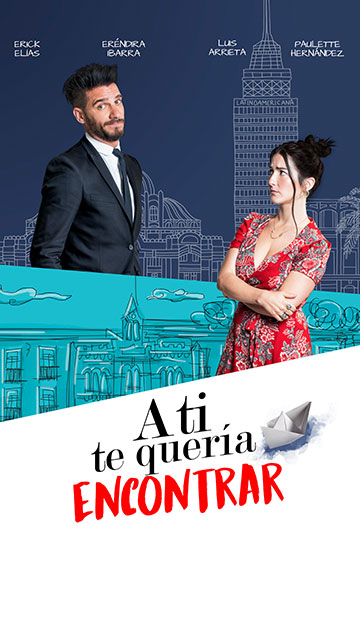 Synopsis
A TI TE QUERIA ENCONTRAR
A tan solo unas semanas de su boda con Julia, la novia perfecta, Diego es obligado por su padre a remodelar un hotel que destruyó durante su descontrolada despedida de soltero. Ahí conoce a Lu, la gerente del hotel, una mujer libre, audaz y hermosa. Lu hará que Diego confronte sus miedos y tome por primera vez el control de su vida. A Ti Te Quería Encontrar es una historia acerca de atreverse a hacer lo que te hace feliz y no conformarse con la opción menos arriesgada. Es un viaje de autodescubrimiento, de valor y de amor.
I Was Looking For You
A few weeks before his wedding with Julia, the perfect girlfriend, Diego is forced by his father to remodel a hotel he destroyed during his wild bachelor party. There, he meets Lu, the hotel's manager, who is a free, audacious, and beautiful woman. Lu will push Diego to confront his fears and take control of his life for the first time. A Ti Te Queria Encontrar (I Was Looking For You) is a story about daring to do what makes you happy and not to settle for the less risky choice. It's a journey of self-discovery, bravery, and love.