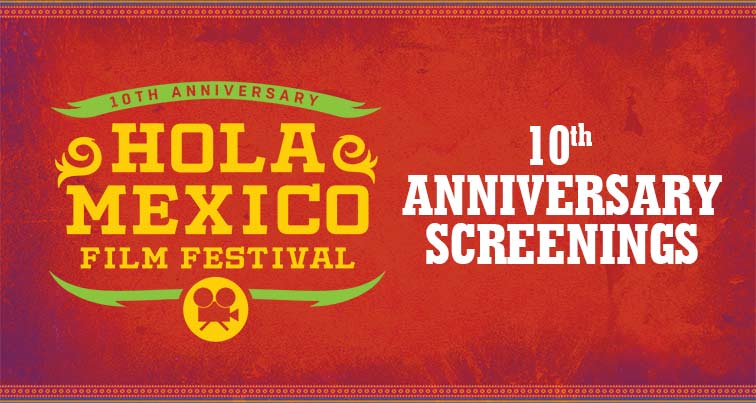 15 Mar

Hola Mexico 10th Anniversary Screenings

Join us as the Hola Mexico Film Festival celebrates our 10th Anniversary!

Every Thursday from April 5th until May 24th, enjoy a special presentation of our o

pening Night Selections for the past 9 years! In addition, there will be an art gallery at the lobby of the cinema of the consul, displaying each of the festival posters from the past 9 years

. Screenings are free, just RSVP, stay after the show for Q&A with directors and talent!

Doors will open at 6:30 PM, screening starts promptly at 7:00PM

Consulate General of Mexico in Los Angeles

2401 W. 6th St.

Los Angeles, CA 90057
April 5th
ARRANCAME LA VIDA
Tear This Heart Out
DIR. ROBERTO SNEIDER (MEXICO 2008, 110MIN, 35MM)
CAST: ANA CLAUDIA TALANCON, DANIEL GIMENEZ CACHO
Q&A after the movie with Roberto Sneider & Ana CLaudia Talancon
Based on the novel by Angeles Mastretta, and set in the backdrop of Mexico's post-revolution of the '30s and '40s. The film evokes the politics, love, murder and passion of the time. Story begins with the beautiful Catalina Guzmán (Ana Claudia Talancón) who at an early age, marries an older, charismatic and cunning General, Andrés Ascencio (Daniel Giménez Cacho). Dazzled by his world, Catalina escorts him on his political campaigns, observing at his side the intriguing political system in order for her to obtain social justice. She soon discovers, that by dedicating her life to the General, she might not attain her freedom. Tear This Heart Out was Mexico's official entry for the Academy Awards® consideration and one of the most expensive and successful films in Mexican cinema history.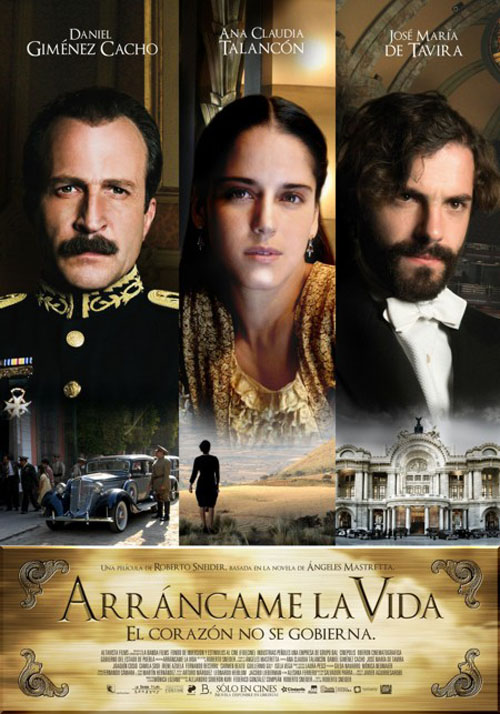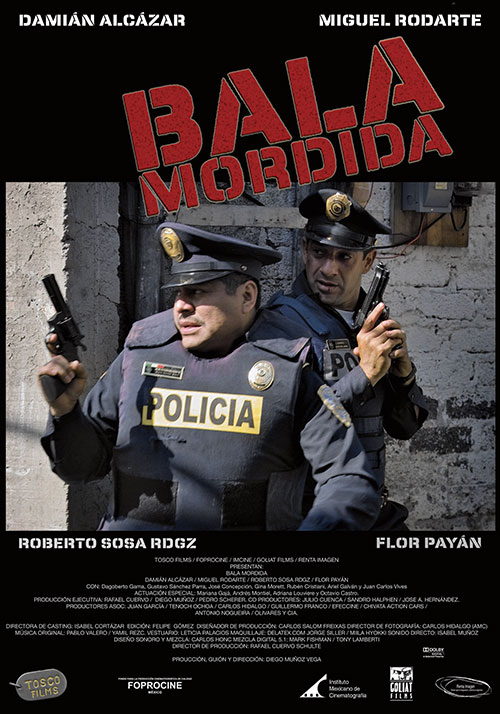 April 12th
BALA MORDIDA
Bitten Bullet
DIR. DIEGO MUNOZ (MEXICO 2009, 112MIN)
CAST: DAMIAN ALCAZAR, DAGOBERTO GAMA, OCTAVIO CASTRO
Mauro Hernandez is a young cop who believes he can make a difference. But when he gets caught in the middle of a drug deal that involves his commander, things start to fall apart. Now Mauro has to decide whether he´ll become part of the system or if he has the courage to fight back. In one of the best performances by Damian Alcazar (La Ley de Herodes, El Crimen Del Padre Amaro), first time director Diego Munoz, tells a chilling story that depicts how the police functions on a day by day basis.
April 19th
ACORAZADO
The Raft
DIR. ALVARO CURIEL (MEXICO 2010, 97 MIN)
CAST: SILVERIO PALACIOS, LAURA DE LA LUZ
Convinced that it's completely inefficient to cross the border to become one of millions of Mexican fugitives, Silverio Palacios transforms his old abandoned taxi into a raft to sail to Miami in search of the American Dream. A passionate speaker of senseless speeches, Silverio prepares the most important one yet, as he'll try to convince the American Government to receive a political refugee, fleeing from Communism and risking his life in search of freedom and a better opportunity. A turn of events transforms Alacrán's dream into a new reality. Silverio improvises a desperate speech in front of a Cuban Government who watches the arrival of the first Mexican fleeing the Capital System to seek refuge in the last socialist country in the continent, as very unlikely.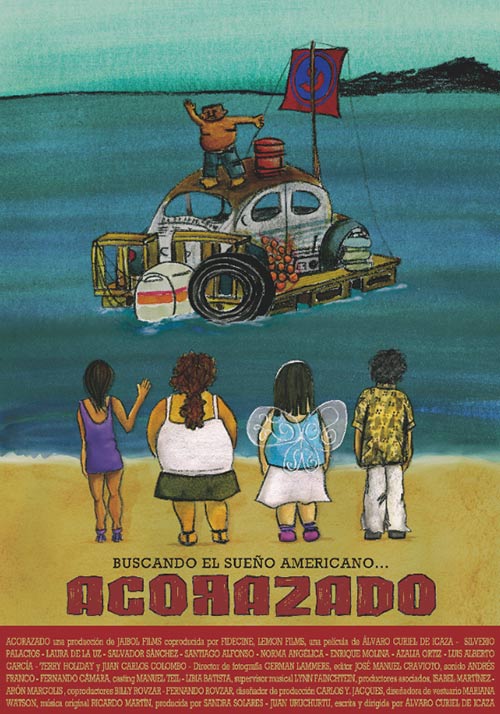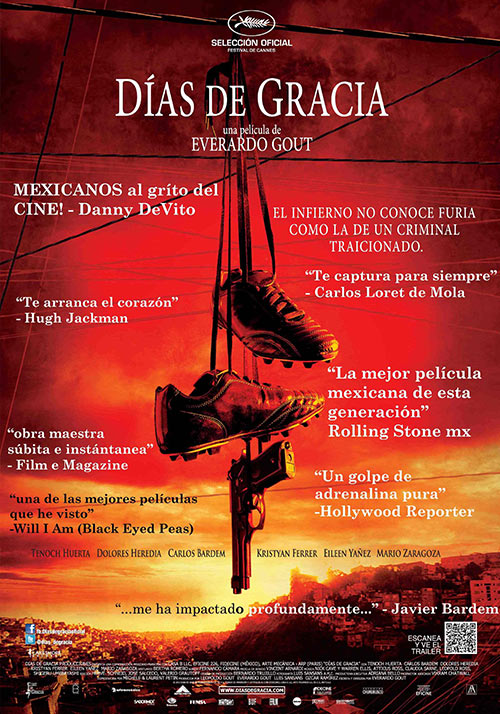 April 26th
DIAS DE GRACIA
Days Of Grace
DIR. EVERARDO GOUT (MEXICO 2011, 132 MIN)
CAST: TENOCH HUERTA, CARLOS BARDEM, KRISTYAN FERRER, DOLORES HEREDIA
Soccer World Cup, Sacred times were everything is goes.
The entire world on a paralyzing vertex.
A cop, a hostage, a family, vengeance… Thee ways to fight, in order to survive. Applauded and heralded at the Cannes Film Festival, a movie that will keep you and hold you from its first minute, and will not let go.
May 3rd
CASESE QUIEN PUEDA
Get Married If You Can
DIR. MARCO POLO CONSTANDSE (MEXICO 2013, 107MIN)
CAST: MARTHA HIGAREDA, LUIS GERARDO MENDEZ, MIRIAM HIGAREDA
Ana Paula is on the brink of walking down the aisle when she discovers her fiancee is cheating on her with her own cousin. After a night of drinking, she ends up falling asleep in the back of a pick up truck, which heads out to the farm. When she wakes up, she realizes she is far from home, and looks for a way back when she encounters an enigmatic doctor, an indigenous family and the realization that she always wanted to further her educations, all things that turn her previous existance upside down. In the meantime, her sister Daniela, has no interest in love, since she is already on her career path.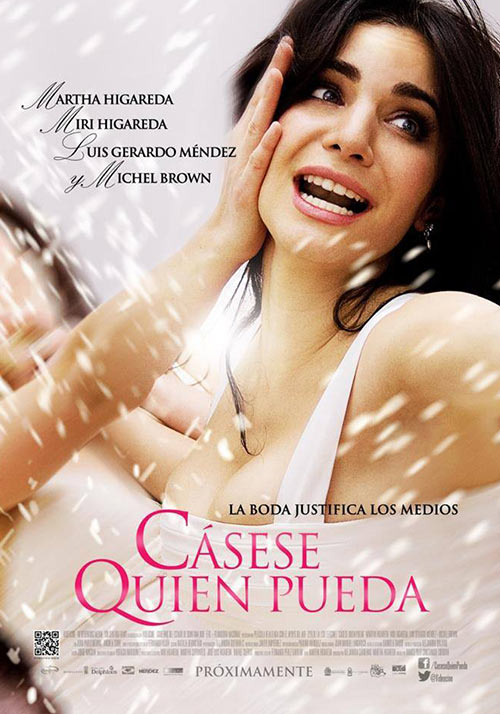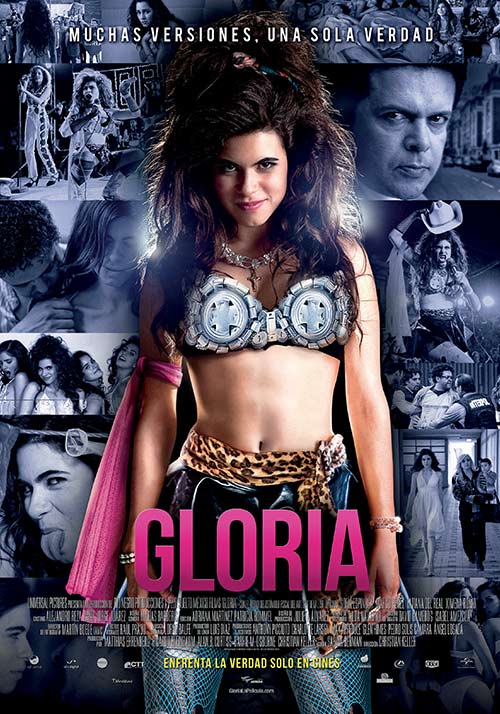 May 10th
GLORIA
DIR. CHRISTIAN KELLER (MEXICO 2014, 126MIN)
CAST: SOFIA ESPONOSA, MARCO PEREZ
A bold and compelling tale of ambition, betrayal and redemption, Gloria chronicles the life of international pop star Gloria Trevi, the "Mexican Madonna." Carefully groomed by an abusive manager and propelled by her politically charged lyrics and unashamed sexuality, Gloria shoots to unparalleled stardom—until a sex scandal that mesmerized the world brings her crashing down.
May 17th
LA DELGADA LINEA AMARILLA
The Thin Yellow Line
DIR. CELSO R. GARCIA (MEXICO 2015, 95 MIN)
CAST: DAMIAN ALCAZÁR, JOAQUÍN COSÍO, SILVERIO PALACIOS, GUSTAVO SANCHEZ PARRA
Five men are hired to paint the lines of a road. Painting 1 km/hour is slow enough to learn the lines between good and evil, laughter and despair, life and death. The challenges they face will change their lives forever.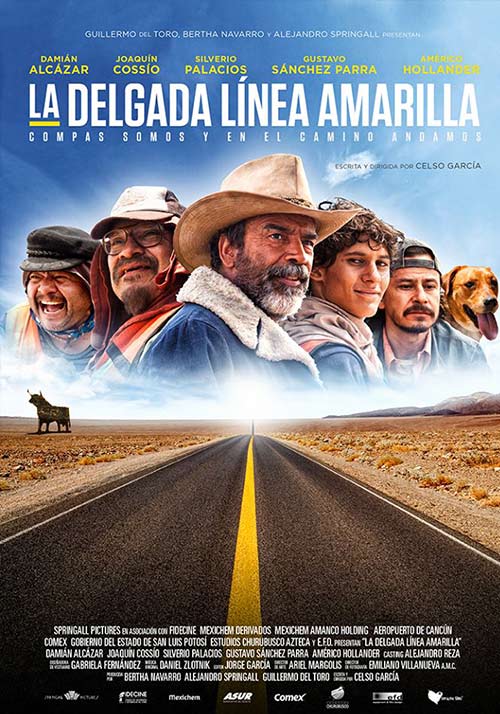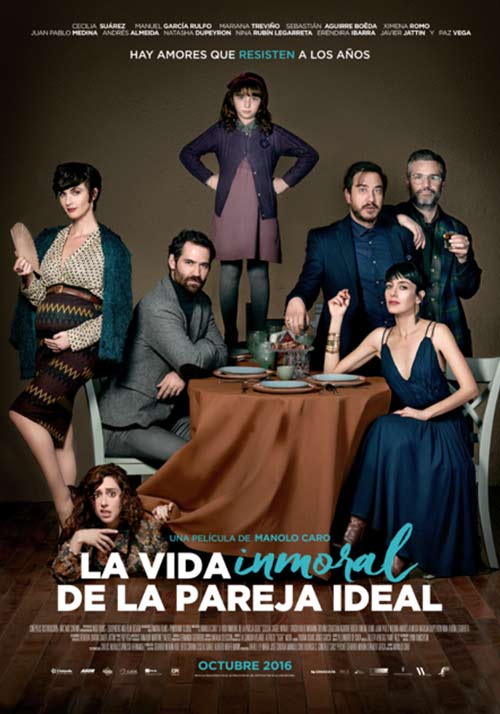 May 24th
LA VIDA INMORAL DE LA PAREJA IDEAL
Tales of an Inmoral Couple
Dir. Manolo Caro
Cast: Cecilia Suárez, Manuel García-Rulfo, Ximena Romo, Sebastián Aguirre, Andrés Almeida, Eréndira Ibarra, Natasha Dupeyrón,
Mexico 2016, 91 min
Lucio and Martina had a passionate romance during their youth at a strict Catholic high school. 25 years later, they unexpectedly run into each other in the city of San Miguel de Allende. Their immediate reaction is to each pretend to be married happily––even if it's all lies. As they try to maintain their false images in a comedy of errors, we find out just what happened between the young couple so long ago.