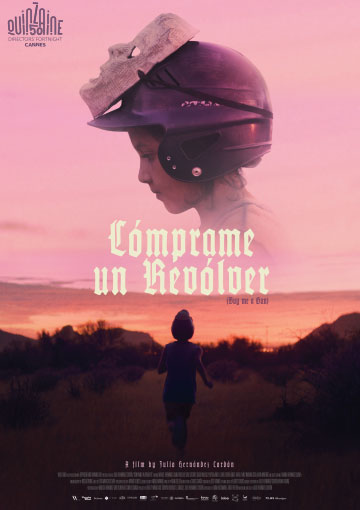 BUY ME A GUN
(Comprame Un Revolver)
Section: MX Ahora
Directed by: Julio Hernández Cordón
Language: Spanish (English Subtitles)
Year of Production: 2019
Country of Origin: México
Duration: TBD
Cast: Ángel Rafael Yanez, Wallace Pereyda, Ángel Leonel Corral
Set in an unspecified near-future version of Mexico, the new film by talented director Julio Hernández Cordón reinterprets the literary classic "The Adventures of Huckleberry Finn" as a dystopia where women are disappearing, and brutal cartels have complete control of the country.  In this dark world, a young girl named Huck (Matilde Hernandez), who wears a mask to hide her gender, helps her father, a tormented addict, take care of an abandoned baseball field where local narcos gather to play. To survive and defeat the local capo, Huck bands together with a group of lost boys that have learned to camouflage themselves in the windy desert. In their fight there may be hope for a better future.
Ambientada en México en un futuro no muy lejano, la nueva película del talentoso director Julio Hernández Cordón, reinterpreta el clásico literario "Las Aventuras de Huckleberry Finn" como una distopía donde las mujeres están desapareciendo y los cárteles tienen el control total del país. En este mundo oscuro, una joven llamada Huck (Matilde Hernandez), que usa una máscara para ocultar su género, ayuda a su padre, quien sufre de adicción, a cuidar de un campo abandonado de béisbol donde los narcos se reúnen para jugar. Para sobrevivir y derrotar al capo local, Huck se une a un grupo de niños que han aprendido a camuflarse en el desierto. Esta lucha representa la esperanza para un futuro mejor.
Screening followed by Q&A – TBA.