24 Aug

Hola Mexico Film Festival Launches National Tour

The Hola Mexico Film Festival recently finished its 8th edition in Los Angeles, CA this past May and now has selected 10 of the best films from the festival to tour nationally this summer!

Films include work by Diego Luna, Michel Franco, Isaac Ezban, Manolo Caro among other directors. With actors like Ana De La Reguera, Cecilia Suarez, Cassandra Ciangherotti, Ana Claudia Talancon, etc. representing a strong selection of the recent production slate in Mexico, the first ever Hola Mexico Film Festival TOUR anticipates to be a yearly event with the goal of reaching 50 cities by its third year.

"Mexican cinema has been widely unrepresented in the US." Mentioned Samuel Douek, festival founder and director. "There is a great circuit of independent cinemas asking for alternative programming, a huge Hispanic community and great Mexican films."

The tour is a great opportunity for audiences to see the latest in Mexican filmmaking, while at the same time attracting a diverse audience to cinemas and creating a platform for Mexican filmmakers to showcase their work in theaters across the US.

Each film receives a fair share of every ticket sold, which aims to make the tour an attractive opportunity for filmmakers in Mexico.

PARTICIPATING FILMS:

Mr. Pig, Parallel Roads, The Aparicios, I Promise You Anarchy, Made In Bangkok, Paradise Lost, Leaf Blower, The Similars, To The Eyes, Elvira I Would Give You My Life But I'm Using It.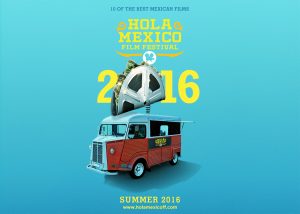 PARTICIPATING DATES / CINEMAS / CITIES
August 26 – 29                               The Roxie                                       San Francisco, CA
August 26 – September 1             Ark Lodge Cinemas                       Seattle, WA
August 26 – September 1             Cinépolis                                         Pico Rivera, CA
September 9 – 15                           Maya Cinemas                               Salinas, CA
September 9 – 15                           Maya Cinemas                               Bakersfield, CA
September 9 – 15                           Maya Cinemas                               Fresno, CA
September 9 – 15                           Maya Cinemas                               Pittsburg, CA
September 9 – 15                           The Lot La Jolla                             San Diego, CA
September 9 – 15                          The Lot Point Loma                       San Diego, CA
September 9 – 15                           Cinema Latino de Aurora             Aurora, CO
September 9 – 15                           Sonora Cinemas Phoenix             Phoenix, AZ
September 16 – 22                         América Cinemas                         Forth Worth, TX