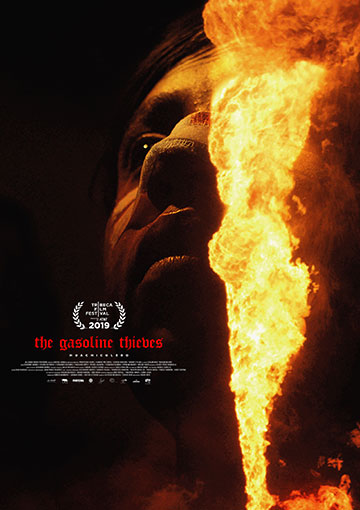 HUACHICOLERO
(THE GASOLINE THIEVES)
(

THE GASOLINE THIEVES)
Section: MX Ahora
Directed by: Edgar Nito
Language: Spanish (English Subtitles)
Year of Production: 2019
Country of Origin: México
Duration: TBD
Cast:Leonardo Alonso, Eduardo Banda, Fernando Becerril, Pedro Joaquín, Pascacio López.
Lalo (Eduardo Banda), a teenager from a small town, has a crush on girl at school and decides the only way to win her heart is buying her an expensive smartphone. At the same time, his mother is in need of financial support to cover medical bills. In order to help and achieve his romantic goals, Lalo gets involved with the local huachicoleros (gasoline thieves), who enlist him to illegally siphon the fuel and resell it on the black market. What first appeared like a solution to his troubles proves to be a deadly bargain. His choices could land Lalo in the hands of the authorities or in a much worse situation. This stunning debut feature touching on a relevant issue positions filmmaker Edgar Nito as one of the most exciting new voices in Mexican cinema.
Lalo (Eduardo Banda), un adolescente de una comunidad rural, está enamorado de una compañera de su escuela y decide que la única forma de llegar a su corazón es comprándole un teléfono celular bastante caro. Al mismo tiempo, su madre necesita dinero urgentemente para cubrir sus gastos médicos. Con la intención de ayudar a su madre y lograr su objetivo romántico, Lalo se involucra con los huachicoleros (ladrones de gasolina), quienes lo reclutan para extraer ilegalmente el combustible y venderlo en el mercado negro. Sin embargo, lo que al principio parecía una solución a sus problemas demuestra ser una peligrosa actividad. Sus malas decisiones podrían llevar a Lalo a caer en manos de las autoridades o en una situación mucho peor. Esta sorprendente opera prima, que toca un tema sumamente relevante, coloca al cineasta Edgar Nito como una de las nuevas voces más interesantes del cine mexicano.
Screening followed by Q&A – TBA.