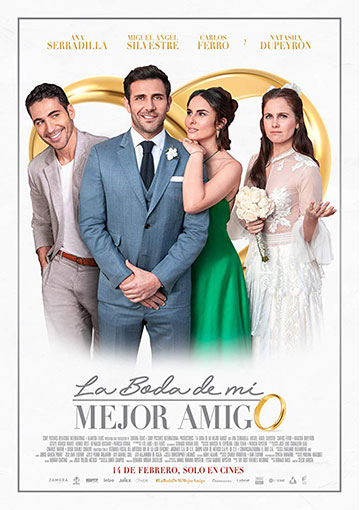 MY BEST FRIEND'S WEDDING
(La Boda De Mi Mejor Amigo)
Section: MX Ahora
Directed by: Celso García
Language: Spanish (English Subtitles)
Year of Production: 2019
Country of Origin: México
Duration: 109 min
Cast: Miguel Ángel Silvestre, Ana Serradilla, Natasha Dupeyrón, Carlos Ferro.
This reimagining of the classic 90s romantic comedy starring Julia Roberts and Cameron Diaz follows the same formula but with a Mexican twist. Actress Ana Serradilla plays Julia, a renowned food critic afraid of settling down. Despite her aversion for commitment, Julia and her best friend Manuel (Carlos Ferro) had promised to marry each other if they were both single by age 35. To her surprise, the time has come and Manuel is marrying another women. With only four days before the ceremony and certain that she is the only woman for him, Julia plans to stop the wedding at any cost.
Esta nueva versión de la comedia romántica clásica de los 90, protagonizada por Julia Roberts y Cameron Díaz, sigue la misma fórmula pero con un toque mexicano. La actriz Ana Serradilla interpreta a Julia, una renombrada crítica gastronómica que le tiene miedo a sentar cabeza. A pesar de su aversión al compromiso, Julia y su mejor amigo Manuel (Carlos Ferro) prometieron casarse entre ellos si seguían solteros al cumplir 35 años. Para su sorpresa, la fecha ha llegado y Manuel se va a casar con otra mujer. Con solo cuatro días antes de la ceremonia y segura de que ella es la única mujer para él, Julia planea detener la boda a cualquier costo.

The Largest Mexican Film Festival outside of Mexico, celebrating our 11th year.