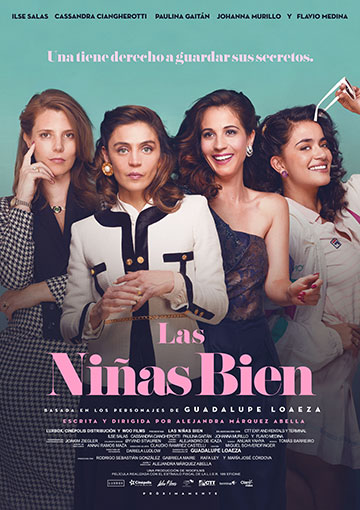 THE GOOD GIRLS 
(Las Niñas Bien)
Section: Opening Film
Directed by: Alejandra Márquez Abella
Language: Spanish (English Subtitles)
Year of Production: 2019
Country of Origin: México
Duration: 93 Minutes
Cast: Ilse Salas, Flavio Medina, Cassandra Ciangherotti, Paulina Gaitan, Johanna Murillo
Surrounded by extravagant luxury, Sofía de Garay (Ilse Salas) lives in a dreamlike cloud of opulence in 1980s Mexico City. Her days are filled with lavish soirees, designer dresses, country-club tennis matches, and all the pleasures reserved for the upper crust. In this world, appearances are everything and friendships are only as strong as your financial status. However, when Mexico's 1982 economic crisis hits her husband's business hard, the elegant lifestyle Sofia is accustomed to falls to pieces right before her eyes. Soon, her arrogance turns into desperation, as she is forced to confront her new reality. It's only in her infatuation with Spanish singer Julio Iglesias that Sofia finds solace from the unbearable turmoil. Director Alejandra Márquez Abella's film is a sumptuous examination of the privileged few trapped in their artificial microcosm of hypocrisy, superficiality, and immense loneliness.
Rodeada de extravagantes lujos, Sofía de Garay (Ilse Salas) vive en una nube de ensueño y opulencia en la Ciudad de México durante los años 80s. Sus días están llenos de deslumbrantes fiestas, vestidos de diseñador, juegos de tenis en el country club, y de todos los placeres reservados para la clase alta. Es este mundo las apariencias lo son todo y las amistades solo son tan fuertes como tu estado financiero. Sin embargo, cuando la crisis económica de 1982 afecta severamente el negocio de su esposo, el elegante estilo de vida al que Sofía esta acostumbra se empieza a desmoronar ante sus ojos. De inmediato, su arrogancia se transforma en desesperación al verse forzada a confrontar su nueva realidad. Es solo su fascinación con el cantante español Julio Iglesia lo que la mantiene a flote frente al insoportable caos a su alrededor. Esta cinta de la directora Alejandra Márquez Abella es una suntuosa mirada a la clase privilegiada que vive atrapada en un microcosmos artificial lleno de hipocresía, superficialidad, e inmensa soledad.

The Largest Mexican Film Festival outside of Mexico, celebrating our 11th year.