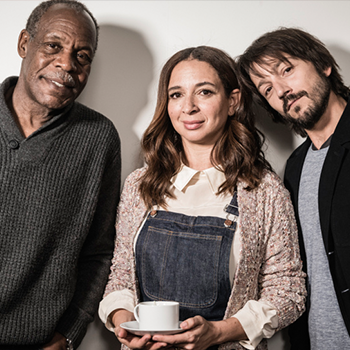 Mexicans at Sundance
A short-film, a documentary and the latest film by Diego Luna invaded Utah's Park City at the worlds best indie film festival.
The mecca of independent film had a flair for Mexico as it welcomed one of our best, actor-producer Diego Luna who arrived at Park City mountains with his Canana teammates to show his latest work, Mr. Pig, a drama with leading actors Danny Glover and Maya Rudolph showcasing, once again, a tour through Mexico.
On his new production, with an "independent spirit" as Luna himself defined it in an interview with newspaper EL PAIS, the producer ensures that the story of Mr. Pig has no comparison for it lives in a world of its own and thus was not well accepted at Sundance. A screening is confirmed at the Festival Internacional de Cine de Guadalajara (FICG) on march 15th and will be released in movie theaters in Mexico on the 18th of the same month.
The story of Mr. Pig sorrounds the voyage that a north american farmer decides to make through Mexico after closing his own farm. Accompanied for the trip is his little pig, for which he wishes to find a new home.
Another mexican made its presence.  A documentary directed by Maya Goded called "Plaza de la Soledad", a film about an eery subject; prostitution in Mexico City. The film intends to brake down the barriers of prejudice sorrounding women in this line of work.
Goddess work is the result of years of research and the company kept with the women in her initial still photography project that made way for the feature film that escalated all the way to Sundance.
The third and last mexican showing this year at Park City was "Bajo las Brasas", a shortfilm documentary directed by Veronica Jessamyn Lòpez Sainz with the support of the Festival Internacional de Cine de Guanajuato (GIFF). Critics claim the film comes with a self-improvement message. The story shows a young woman of a poor upbringing, specifically from the cole mine, she works hard and is dedicated enough to overcome her difficulties and accomplish her dreams and aspirations.
La presencia mexicana en Sundance 
Un cortometraje , un documental y la nueva película de Diego Luna invadieron las montañas de Park City en Utah en el festival que reúne lo mejor del cine indie.  
La meca del cine independiente tuvo su acento mexicano al recibir a uno de nuestros mejores representantes, el actor-realizador Diego Luna, quien llegó hasta las montañas de Park City para presentar Mr. Pig, un drama protagonizado por Danny Glover y Maya Rudolph en el que nuevamente veremos un recorrido por México.
Sobre su nueva producción con "espíritu independiente" como el mismo Luna la definió en una entrevista concedida para el diario EL PAÍS, el mexicano afirma que la historia de Mr. Pig no se puede comparar con ninguna otra ya que vive en su propio mundo y por eso logro ser aceptada en Sundance.
El relato de Mr. Pig tiene como tema central la travesía que emprende un hombre norteamericano dedicado al campo que decide cerrar su granja para emprender un viaje por México. El trayecto lo hace acompañado de su puerquito a quien busca encontrarle un nuevo lugar dónde vivir.
La otra presencia nacional es el documental dirigido por Maya Goded titulado "Plaza de la Soledad" una pieza que aborda el escabroso tema de la prostitución en la Ciudad de México, el cual busca derribar estas viejas telarañas de prejuicios que tenemos sobre las mujeres que laboran en este oficio.
El proyecto de Goded es resultado de años de seguimiento y convivio con estas mujeres desde el campo de la foto fija y ahora da el siguiente paso a la cinematografía con una pieza en cine documental que logró escalar hasta llegar a las vitrinas de Sundance.
La tercera y ultima presentación mexicana en Park City fue "Bajo las Brasas", un cortometraje documental dirigido por Verónica Jessamyn López Sainz, producción apoyada por el Festival Internacional de Cine Guanajuato (GIFF) que según la crítica, lleva consigo un mensaje de superación. En la historia vemos cómo una joven proveniente de estratos muy bajos -de los carboneros para ser específicos- logra salir a base de esfuerzo y dedicación para cumplir sus sueños y aspiraciones.
Esperemos que esta cosecha de buenas producciones siga creciendo y visitando más festivales por todo el mundo.