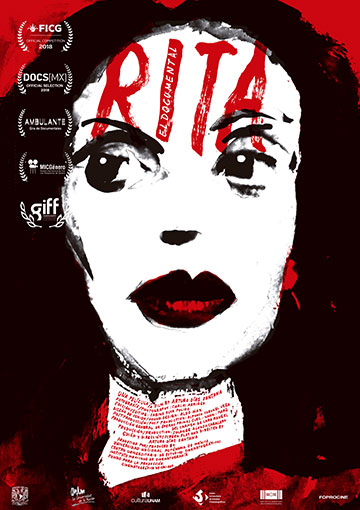 RITA 
(Rita: El Documental)
Section: Documentary
Directed by: Arturo Díaz Santana
Language: Spanish (English Subtitles)
Year of Production: 2019
Country of Origin: México
Duration: TBD
Cast: Rita Guerrero, Jacobo Lieberman, Alfonso Figueroa, Ursula Pruneda
Celebrating the life of rock star and activist Rita Guerrero, this intimate and music-fueled documentary by Arturo Diaz Santana captures the energy and artistry of a brilliant performer who was taken too soon. As the lead singer of famous band La Santa Sabina, Guerrero became a central figure in Mexico's 90s rock scene and a fierce advocate for social justice who supported the Zapatista movement. Blending footage from her role as an entertainer that the audience came to love, with personal moments highlighting her off-stage personality, as well as interviews with those who were touched by her magic, the film honors her legacy but also serves a portrait of a woman who was  a fighter till the end. Adoring fans, as well as younger generations who will discover her for the first time, will enjoy this moving cinematic tribute.
Celebrando la vida de la estrella de rock y activista Rita Guerrero, este intimo documental cargado de música y dirigido por Arturo Díaz Santana captura la energía y el talento de una artista brillante que dejó este mundo demasiado pronto. Como vocalista  de la famosa banda La Santa Sabina, Guerrero se convirtió en una figura central en la escena del rock de los 90 en México y una feroz defensora de la justicia social que apoyó el movimiento zapatista. Combinando imágenes de su papel como cantante que cautivó al público, con momentos personales destacando su personalidad fuera del escenario, así como entrevistas con aquellos que fueron conmovidos por su magia, la película honra su legado pero también presenta un retrato de una mujer que lucho arduamente hasta el final. Sus admiradores, así como las nuevas generaciones que la descubrirán por primera vez, disfrutarán de este conmovedor homenaje cinematográfico.
RITA Documentary screening followed by La Santa Sabina 30th Anniversary Live.